Best Way to Access All Your Android Files in Your Mac
While Android is one of the two market leading operating systems for mobile devices, Macintosh or Mac is one of the most used desktop and laptop operating system. But what happens when you try to connect an android device to a MacBook? Well you are sure to get access to your files using MTP connection and Google's default Android File Transfer for Mac OS X but there may still be some hiccups here and there. Drag and Drop might not be supported and some movie or video files may have trouble being played on your mac OS laptop without copying them first.
The Problem:
Android offers great customizability for a mobile operating system and Mac offers beautiful sleek and very powerful laptops. But the two companies Google and Apple also have the same kind of product as the competitor, like in Google's case Chromebooks or Pixelbooks and for Apple it has to be iPhone. Without calling out Apple here, we would have to agree that Google still thrives to offer its users as much customizability in their products as possible. Where Apple's philosophy is somewhat to limit their devices in features and keeping them simple but providing a unified ecosystem of Apple products which may communicate among themselves seamlessly. This fight of ideologies and philosophy might have led to a situation where the end user is left with either buying every Apple alternative of the product they want like iPhone, iWatch, Apple TV, iMac etc. Or simply buy whatever brand sells the best product in their particular category. Google still being open about its user's choices have made an effort to enable file transfer between an Android Device and a MacBook using their android file transfer utility. But the application is still very limiting and does not have a lot of useful features.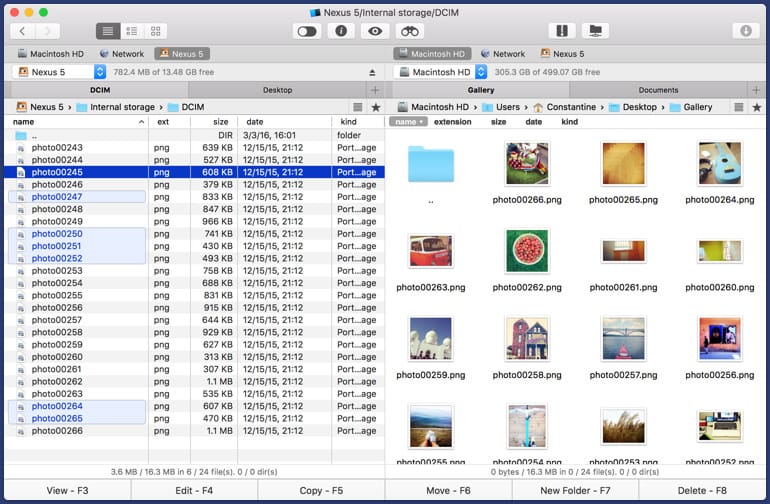 The Solution:
Commander One is a file manager for Android File Transfer for Mac OS X. You can transfer your files from mac to your Android or the vice versa. It uses the MTP or media transfer protocol to transfer data between the mac and android phone. Commander One is however more than just another file manager. It is packed with very useful features and gives the user a much smoother and visually better experience to the user.
Why Use Commander One?
You may still be skeptical to use any software other than the official one for your use cases. Following are a few reasons why Commander One is way better than the official Google solution:
Mount Android Phone as a Media Device: You may want to watch the movies or view the pictures stored in the Android phone. With Commander One you can mount your android phone as a media device, which lets you watch, view, listen to all your movies, photos and music stored in the android phone without needing to copy them to the mac first.
Autodetect the Android Phone: Commander One service running in the background keeps track if an android device is connected. So, you just connect your phone in MTP mode and it is automatically mounted.
Show Hidden Files: Commander One lets you see the hidden files and folders in your Android Phone.
Recent Files: It also takes a record of your all file transfers and access. If you want that movie you were watching last night, it should be in the history.
Custom Hotkey Macro: You can set up custom hotkeys for file operations you frequently perform.
Tabbed File Manager: Nifty feature. You can have multiple tabs open with different folders in each so you can easily perform drag and drop operations.
Built-in Zip: Don't need another 3rd party solution to open zip files. Commander One has built-in zip support.
You may be interested