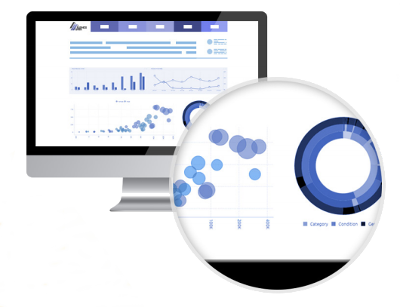 Business Intelligence appears to be the new buzzword. Almost every industry globally has been understanding the importance of data. The need to harness this data has given rise to the high impetus being paid to the tools that help to achieve this integration. That has been what Business Intelligence or BI had been so far. It has been heading to a new dimension – with the reporting features embedded within the product. This new area known as Embedded Business Intelligence is what we will be attempting at understanding today.
What is Embedded Business Intelligence?
Well, the term itself should make itself clear. We are aware that Business Intelligence is the combination of dashboard reporting, analytics and data visualization. If these features are added to the existing applications themselves, these will form part of Embedded BI.
Embedded BI is also referred to as Embedded Analytics. An Embedded Business Intelligence Module can be created using any of the two methods outlined here –
In House Development –

The reporting dashboard can be developed by the app developer themselves and embedded to the application. The same will go true with a product that you may take up.

Outsourcing –

The analytics part of the tool is purchased from a third party source and then integrated with the application under development.
Why is Embedded Business Intelligence so important?
Embedded BI offers several advantages for the developers. Embedded BI has been the next in thing. There has been an awareness among the companies about the importance of data and the additional use that this data can be put to. Not only for them but for their customers as well.
This is what has made Embedded BI a force to reckon with. The software tools today collect a huge amount of data. They store this data in very organized manner. So, instead of all this data going waste, the companies can give their customers access to this data. This will, in fact, make your products more valuable.
But, this data is raw for use with. Thus it necessitates the need for processing the data – by cleaning and analyzing it –and that is precisely what BI software does.
Even then, you may ask, why Embedded? Well, to make it simple. Since the data is being used by the end customers, they would not like it if they have to move between platforms. Moreover embedded BI ensures that there is no time gap between data generation and their analysis.
The Future Of  Embedded BI
Embedded BI is a cleaner and sophisticated way to harness the huge amount of data. In fact, collecting data has been quite easy with the current breed of technological innovations.
It will not be a passing trend.  We are sure that it will continue to flourish. Actually speaking, the embedded BI is quite helpful for services that require two platforms. The business is getting data driven, and this manifests itself in the fact that data and its analysis no longer being a luxury, but as a commodity rather.
There has been a good deal of firms making their presence felt with their customised software solutions that can be embedded within the applications Izenda Embedded BI can be a good example for the high quality of Embedded BI solutions that it comes with.
Embedded data has already been helping us out in many ways, even in a still nascent form. Navigational data that offers us alternate routes in cases of traffic congestions can be a good example here. Another example can be the wearables which monitor your blood pressure, heart rate and other data while you are working out. Imagine, this enormous data being used in return to analyze which kind of activity works the best.
Those were a couple of examples. Possibilities are endless. Making the customers aware of the importance of data and how useful they can be should be the primary concern if we really want to make use of the technology. Once they are aware, there is be much demand.
The Parting Thoughts
If you are into a data driven business ( and we assumethat every industry is moving towards being data driven), you might have clearly understood the promise that Embedded BI carries for the future. The concept of Internet of Things has been catching up quite huge and this can be another factor that may enhance the development of Embedded BI and Data management in a better way.
In any case, we do expect a lot more unique products and services making their presence felt in the days ahead. It will go a long way to benefit both the customers, the product manufacturers and software vendors alike.  It will open the doors for a new opportunity for the world at large.
Let us hope for the Day … and reap the benefits!