A business becomes a success not just with one person but only when all works equally for it. The punctuality of the employers matters a lot when it comes to the pavement of success in a business. It is not just important to keep a tab on the attendance of an employee but also on their regulations such as their reporting time and leaving time. Today most of the companies make use of a time attendance system for this. They help you to track time and identify the lacking efficiency or the regained time. There are different types of time attendance system, starting from biometrics to card based and even facial recognition which makes it really reliable. The speed and efficiency of these time attendance system is another major advantage over paper attendance systems. It is extremely useful in payroll generation too. Here are few more reasons for why you should opt a time attendance system for your company:
Accurate and Modern Tracking –

One of the main reasons to rely on

time attendance system

is its accuracy. Manual tracking of employee attendance can be prone to human errors. A higher chance for time theft and buddy punching is there in manual attendance systems. Further, managers get to keep a tab on each employee and also access their data anytime required. With web based solutions, you will immediately by notified when an employee checks in or out.
Say Bye to Paper based attendance

– Not only is it tough to keep track using paper based attendance but is also a wastage of resources. The papers has to be ordered from time to time and can be seen all around employees. Often these get lost too which makes it tough during a payroll. Further you can avoid the theft of stationary items like pen and pencils too which is common for a paper based attendance.
Easier to calculate for payroll

– For companies that cut off a day's pay for being late, calculating payroll based on paper attendance can be a headache. It can lead to confusions and dissatisfaction among employees too. In cases where these papers are missing or time being changed deliberately, the HR often finds it tough. With time based attendance, not only can these problems be avoided but also can even award an employee or two for time management.
Increase Security

– When it comes to paper based attendance you never know who is entering your company or leaving it. This can be a problem when it comes to security management and its breaches. With time based attendance not only can you prevent strangers from entering your company but also tighten the security. If it is along with mobile phone tracking, you even get notified when an employee enters or when a stranger tries to enter.
Instill a sense of punctuality among employees

– Employees often take a paper based attendance lightly as it can be breached easily or changes can be made. But with time based attendance none of these are possible and this would make the employees not only careful to be on time but also instill punctuality which would help your company in the future. Cutting of half day salary for being late or awarding a small increase in salary for employees who are punctual always would encourage this.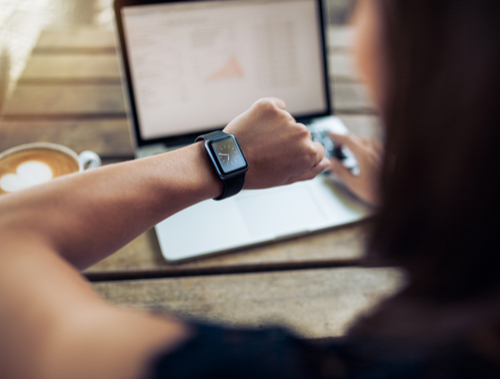 Transparent Procedures

– With time tracking employees get to see not just their exact time in/out but also get to know about their number of leaves and sick leaves. With transparent procedures even other employees get to check on the other person. Other employees get notified in case an employee leaves and thus avoid confusions too. Time wastage calculating leaves can also be avoided. The employees will also know how much time they spend and it can increase the efficiency of work.
Save time

– With time tracking, a lot of time can be saved. First off you don't have to worry if the paper rolls are over which would often create a chaos. Another problem with paper attendance is that it can easily be damaged leading to oversupply of paper or being stuck. Further, time is saved while taking breaks or where calculations are needed.
Get rid of time based legal issues

– One reason for clash among employees or the head and employees is when it comes to overtime. Employees who take overtime has to be paid accordingly by the company. With a paper based tracking, often employees who has taken overtime cannot be identified. Some employees even change their check out time deliberately. All this can cause misunderstandings and dissatisfaction among the employees that can affect the growth of the company. That is why time tracking is the best solution for this.
Employee accountability is improved

– With time tracking system, especially biometrics you get to track everything about the employer. You get to know not only their check in and check out but also when they take breaks. It can show if the employee is taking too long breaks and how long the employee has worked etc. This can help to increase the efficiency in your company by warning employees who take breaks too long or wastes time.
Take steps towards flourishment of company

– A paper based attendance might work for a small business company but if you want your business to grow, then it is high time that you change to a time tracking system. You not only can hire more employees but also will find better results with increased efficiency among the employees. You get to have a system that grows along with you. Rather than being too late and taken advantage off, it is better to be ahead of the curve and act out.
These reasons mentioned above would probably have awakened your head with the importance of time tracking system and the benefits it can do to the betterment of your company. One thing to keep in mind before installing a time tracking system in your office is to do a good research about it. Get to know which are the best types of time tracking system, as today there are plenty of them. Second of all choose the product from a good and reputed company in order to have all the advantages of it and rely it.