Call it "on demand labor", "flexi-work", or "freelance economy", but the rise of the freelancer is inevitable.
In 2016, freelancers made up 35% of all US workers collectively making about $1 trillion (with a T) (*1) and numbers don't even include freelancers outside the United States.
But get this: the "freelance" economy might be appealing, but it's not all roses. According to Paul Chaney of Small Biz Trends (*2), more than 63% of freelancers interviewed revealed that marketing themselves is the most critical expense that they incur while growing their business. Another 57% report experiencing cash flow problems at different times during the year and over 64% use some form of project management software.
Freelancers could have it better. Employers and clients can have it easier too.
The rise of freelancing is certain, as are the perils of unsteady income and cash flows. Freelancers only have billable hours and non-billable hours.
Tracking time – both billable and non-billable – isn't just about fancy clocks ticking away in the background while you work.
As a freelancer, time tracking and project management helps you manage time effectively, eliminates non-essential activity at the cost of productivity, allows you to know exactly where your time goes, as well as helping you bill your clients appropriately while presenting a professional image.
Consider this: You are working on a project, and you have given it a good 4 hours already. Then, your client calls you on the phone and you have a wander about your garden whilst taking the call. If you were using regular time tracking software, you would miss out on adding the 45 minutes your client was on the call to your billable hours.
If you are a client or a business, "Ex-hell" spreadsheets are a nightmare to manage, and using multiple different tools for various aspects of time management, client management, expense management, resource management, is just asking for confusion and error.
Don't  you think that as an employee or employer what you really need is one tool that allows employees and contractors to track time, plan and submit expenses, execute projects better and have reporting capabilities built in. A seamless way to boost productivity and to collaborate with your team is a no-brainer surely.
Where can you find such a thing? Alpaka has the answer, try using the robust management tool to help you to manage employees, vendors, freelancers, or contractors to help you grow your business efficiently.
Both clients and freelancers need a way to make billing, time management, and itemized reports easier. Simultaneously, minimizing lost revenue and productivity boost are a priority and Alpaka provides this fantastically.
Alpaka – an easy and intuitive app — helps you create and complete online time sheets, track expenses, and manage client billing using a single tool. You also get features such as absence management, mileage submission (for contractors and employees on the move), and file storage.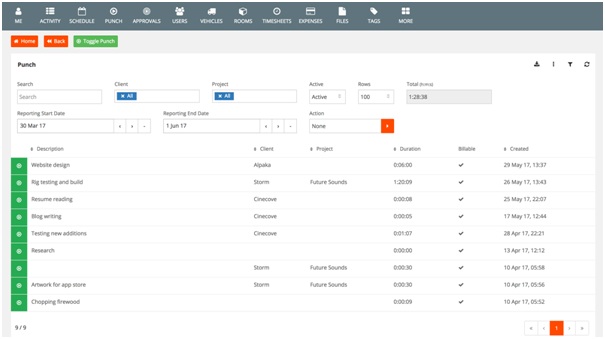 Alpaka Punch™, for instance, allows freelancers to fire up the app and start tracking time right off their smartphones. Time tracking is automatically synced to the desktop version allowing for a seamless time tracking mechanism.
Alpaka also comes with granular features such as, user permissions where your employees and contractors can complete their own timesheets, track time as they work through their to-do lists, and manage expenses made on behalf of clients or employers that they can claim by automated submissions later.
Alpaka allows complete customization enabling the employer to allow or disallow features for certain users.
Time tracking helps freelancers bill for their time, which is still money the last time we checked!
Add clients, fire up the app, choose the client, and track time by using the desktop version or the app (available for both iOS and Android).
Track time and check off your to-do lists, tasks, or projects, you can also submit expenses.
Employees or contractors who are regularly on the road can also submit mileage costs, fuel, vehicles, and other details if needed.
Freelancing doesn't come without its complications. But with an app like Alpaka, you now have the ability to streamline tasks, track time, expense management, and more.
Take control of your time. Manage clients like a pro.
Have you used Alpaka yet? What do you think?
according to a Freelancing in America: 2016 survey.